TOEFL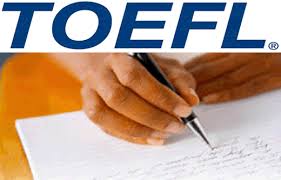 TOEFL stands for Test of English as a Foreign Language. This test is administered all over the world and is the primary basis for testing a non-native speaker's proficiency in English. TOEFL consists of multiple choice questions and is taken over a computer. Over 9000 universities and colleges from 130 different countries accept TOEFL as a standard English proficiency test.
TOEFL is made up of following components:
Listening Comprehension
Listening Comprehension measures a candidate's ability to understand spoken English. It consists of 35-55 questions, which the candidate must answer within 60 to 90 minutes after listening a given lecture, conversation or discussion.
Reading
In reading section, candidates are provided with 3-5 passages, which come with 12-15 questions. They have to read the passages, understand the material and answer all the questions within 60 to 90 minutes.
Speaking
Speaking component requires candidates to express their opinions verbally on familiar topics. They are given six topics to prepare for about 20-30 seconds ?? and they need to express their opinions on each topic for about 50-60 seconds.
Writing
This is the last part on TOEFL test. In this section candidates need to write two essays in exactly 50 minutes. Candidates are required to demonstrate their writing skills and vocabulary knowledge.

All of these components are administered on a single day. Candidates receive a ten minutes break after completion of first two components.
TOEFL score of 81 and above is considered excellent, whereas, the score below 61 is considered relatively low. After the score is evaluated, it is sent to Educational Testing Service (ETS) at free of cost.
Candidates can register for TOEFL through phone, fax or mail. The forms are available to download at
www.toefl.org
or
www.ets.org
. Please note the test scores are valid for up to two years.
Testimonials
Visit us!!
World Vision Education Consultanct
Airpore Kathmandu Nepal
Tel: 014465426 / 9849019841
Email: info@worldvision.edu.np
Website ;www.worldvision.edu.np